Nowadays, Batsmen in ODI cricket has to be much more aggressive and innovative. But whatever may be the format, one thing remains the same which is Consistency. The art of consistency is the best thing on the field of cricket.
Here are the Top 10 batsmen with Best Batting Average in ODIs with minimum of 1500 runs.
Michael Hussey (48.15)
Michael Hussey waited a decade before becoming a star as others might have given up during all that time in the fields of the Sheffield Shield and County Championship, but Hussey maintained the consistency and was living in a statistical world. Hussey has an ODI average of 48.15 as he was the backbone of Aussie middle order once.
 Hashim Amla (50.23)
The classiest and calmest man on a cricket field, Hashim Amla's name will always be taken in South African cricket history. With reminding his wristy leg-side flick and awful cover drive, Amla even became the first South African to score a triple century in Test cricket, while also knows how to change gears. His Average is 50.23 in his long career.
Babar Azam (51.11)
A right-hand, top-order batsman known for his discipline attitude, Babar Azam is known to lead Pakistan's batting line-up in the future. He has a strong performance in 2016, making three consecutive ODI hundreds against West Indies in the UAE. He was 21 years old when he made a debut in 2015 against Sri Lanka. His career Average in his initial stage is 51.11.
Joe Root (51.16)
It was very understandable that there was a fear of Root's future workload. He was very rare and unique among England batsmen in achieving the maturity so quickly, while he even looked consumed by the show of his batting from the moment he first took guard. Now he has many new responsibilities ahead. His ODI average in this process stands as 51.16.
Jonathan Trott (51.25)
Born in Cape Town to a British father and South African mother, Trott played for the South African side from Under-15 to Under-19 level. Trott's ODI average more than 50 is statistically higher than any regular England player in ODI till that time he played, his strike-rate of around 75 was the only concern. He retired with an ODI average of 51.25.
MS Dhoni (51.37)
Barring Sachin Tendulkar, MS Dhoni is arguably the most popular and the most complete cricketer from India. He still didn't look very elegant but became a dependable ODI batsman, one who could accelerate, one who could rebuild, and one who could still tong those big sixes. His ODI average now is 51.37.
Ab De Villiers(53.50)
AB de Villiers has emerged as one of South Africa's greats. A cricketer with overflowing talent and sheer temperament to have with it. Ab De Villiers is a 360-degree batsman who can hit any ball, anywhere, against any bowler. Thus his range of innovative shots has grown as his career very highly. His ODI average is 53.50.
Michael Bevan (53.58)
Bevan was regularly dubbed as the world's best limited-overs batsman during the Early 2000s. Picking the gaps, running hard at the right moment, and finding place to hit a boundary was the hallmarks of his success. Primarily he was known as the best chaser of that time as he has many last-ball heroics. His ODI average is 53.58.
Virat Kohli (58.10)
No word describes Virat Kohli's better. His passion for cricket has made him one of the best batsmen in the world across all formats. Virat Kohli usually does not hold back, and that remains his strength. There is no better batsman than Kohli in chases as he keeps the targets in mind to think clearly and pace his innings. His great ODI Average is 58.10.
Ryan Ten Doeschate (67.00)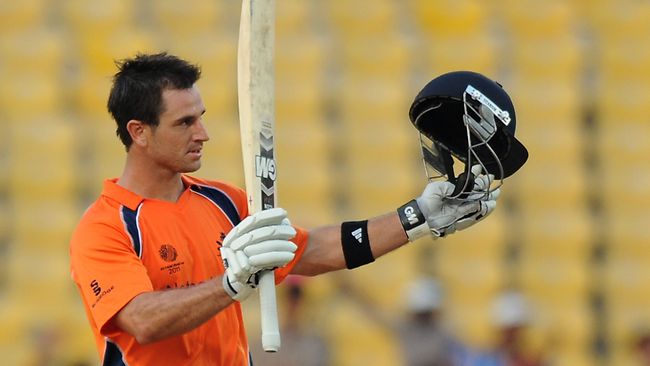 Ryan ten Doeschate has established himself as one of the finest cricketers have been produced by an Associate nation. Born in South Africa, ten Doeschate aimed Jonty Rhodes as his hero and has played for Western Province. He is of Dutch and represents the Netherlands. He played less, but still, his Average is very high as 67 which is a dream of many players.